Warning
: count(): Parameter must be an array or an object that implements Countable in
/home/customer/www/fruitheightsfriends.com/public_html/wp-content/plugins/really-simple-facebook-twitter-share-buttons/really-simple-facebook-twitter-share-buttons.php
on line
619
Looking for Frozen party ideas? You're in the right place! Read for all the best Frozen party ideas for birthdays, dress up parties, and other fun!
Note: This post contains affiliate links. If you click on them and buy something, I'll make a few cents. Thanks for supporting my smoothie habit!
My daughter has loved Frozen since she saw it when she was just 2! We own the movie, the soundtrack (we've been through a few of them), an Anna costume, Elsa costume, crowns, gloves — and so many fun things from Disney's Frozen!
We gathered all of the best ideas we could find at various price ranges. Some people like to make things. I'd rather buy things, and save the time. It helps me enjoy the party instead of being exhausted. If you want to make something yourself, there are links for finished products.
If you are looking for ideas for a Frozen birthday or Frozen party, here you go!
HUGE List of Frozen Party Ideas!
Disney Frozen Themed Food and Treats:
Cupcakes – you can make your own snowflakes with white chocolate or buy these decorative Frozen Winter Snowflake Cupcake Toppers.

2. Serve these light and tasty snowballs made from white cheese puffs from Little House on the Circle! Get the cheese puffs locally or on Amazon – here are some by Pirate's Booty.
3. Frozen Snowflake Marshmallow Pops from Around My Family Table are really pretty, easy to make, and kids will love them!
4. Frozen Jello "Ice Cubes: These ice cubes are made from Jello and are quick, easy, plus they look amazing! Get the instructions at Bubble Nature Creations.
5. Frozen Rice Treats made ombre (such a great effect!) from Two Sisters Crafting.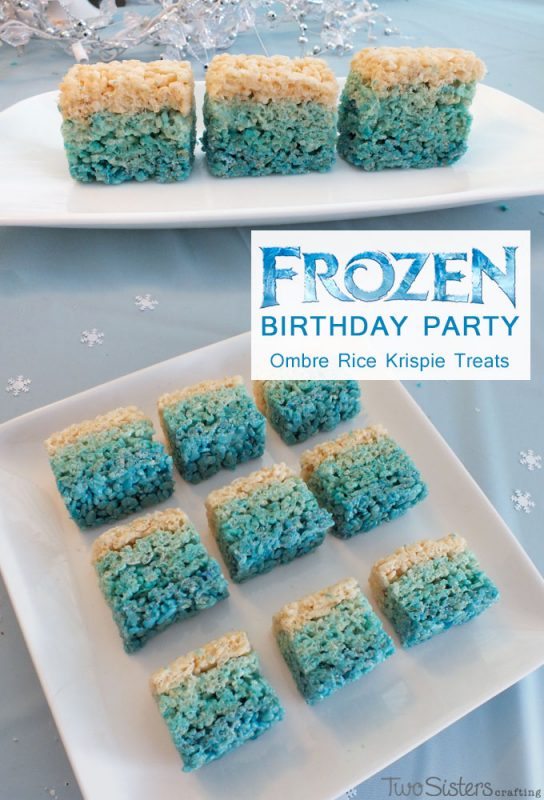 6. These Olaf noses from A Thritfy Mom are super cute and really easy, plus they are healthy! Just buy baby carrots and serve them in a blue bowl.

7. Put out water bottles (melted snow) using printables from Like Mom and Apple Pie.
Now that you have all of this food, you need something to serve it on! Here are some ideas:
Frozen Paper Plates
8. Family Dollar or the Dollar Store have blue plates (and tablecloths) that you could use.
Here is a Frozen Party Supplies Pack Including Plates, Cups and Napkins for 16 Guests (on Amazon).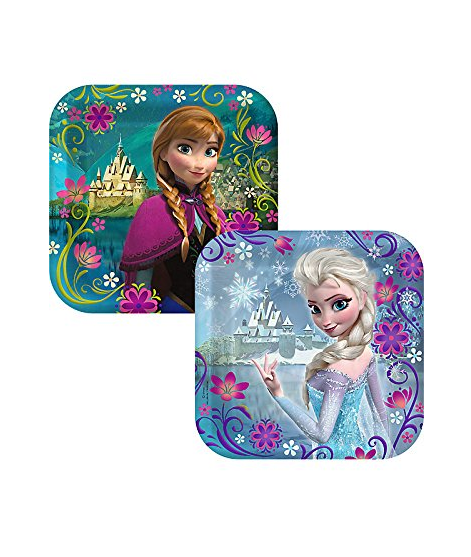 9. Or if you want plates that everyone can take home (and can be customized with a child's name and are microwave safe) from Shutterfly:
1o. Want to label your food? These printouts are only $5 for 32. Just print, cut out and you have a great Frozen party dessert and snack buffet!
11. Disney Frozen Temporary Tattoos Kit (290-Piece)
 just $4.99. These are ideal to use in place of face painting. They are easy to apply too.
Frozen Party Decorations:
12. Make it snow any time of year with this Snow Ball garland. Super easy! Just thread cotton balls (or marshmallows) on to clear plastic string with a needle. Space them a few inches apart.
13. Snowflake balloons will also make cute decorations! You can hang them from upside down from the ceiling with a penny in them to weight them down. Or, get helium in them and let them float.
14. Or, make a snowflake mobile for a centerpiece. It's on Pinterest here.
15. Then there is this darling snowflake bunting Creative Juice Cafe to use for a layered effect. You could even bring it back out for Christmas decorations.
16. Either make your own Elsa wands like these from Cutsey Crafts, or buy these light up wands from Amazon and tie some blue netting around the top.
17. You can get Frozen-looking skirts for little girls at the dollar store. Have the girls wear all white, then they can wear princess skirts and necklaces. See this post for an example.
Or use the skirt from this DIY No Sew Elsa Costume from Eighteen25!
Frozen Birthday Party Craft Ideas:
18. Olaf snowglobes (I think they're fun even without the jar) from Sister's Suitcase blog.
19. Blue glitter slime. Add blue food coloring and sparkly glitter to make this awesome slime from Two Daloo! They say it's ocean but it's easy to imagine it as Frozen-themed.
20. Isn't this fun – you can make your own sparkly snow! Give each kid a tray or bucket of it and let them make their own snowballs or other creations with it! From Growing a Jeweled Rose.
21. Pipe Cleaner Crowns look like Elsa and are so pretty! They're made with pipe cleaner and beads.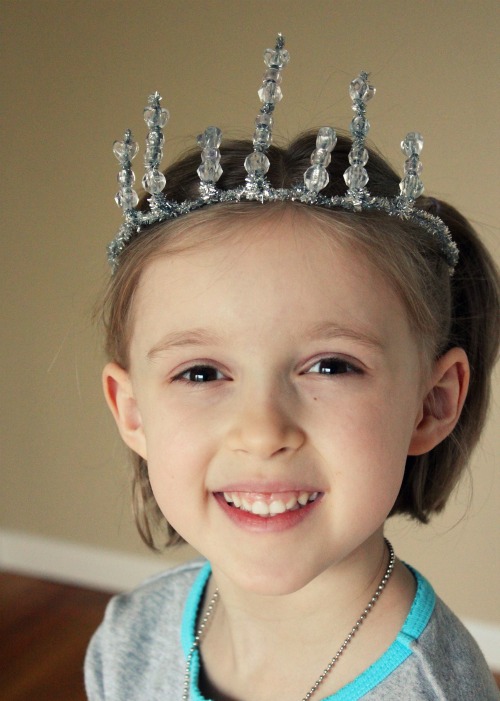 22. Or, if you knit, you can learn how to make these simple crowns on Craftsy.
Frozen Party Activities and Crafts:
23. If it's summer, instead of a pinata, you can tie blue and white water balloons to a string. This example from Little Bit Funky. Note: use cheap water balloons that break easily.
24. Play pin the carrot nose on Olaf with this game from The Style Sisters.
25. Play the marshmallow game! See how many mini marshmallows each child can pick up with chopsticks. Instead of white take out boxes, make a Frozen-themed one (or a simple paper bowl).
26. Olaf  Paper Plate Craft: Kids can make their own Olaf puppets at the party with this tutorial from Coffee Cups and Crayons!
27. Printable Scavenger Hunt: Hide small party favors with this game from My Sister's Suitcase – kids will love hunting for the prizes!
28. Snowball Toss: See who can throw the most snowballs in the bucket with this fun game from Pebbles and Piggytails! Note: you could use the pom poms, small softballs or even blow up balls (from Oriental Trading Company).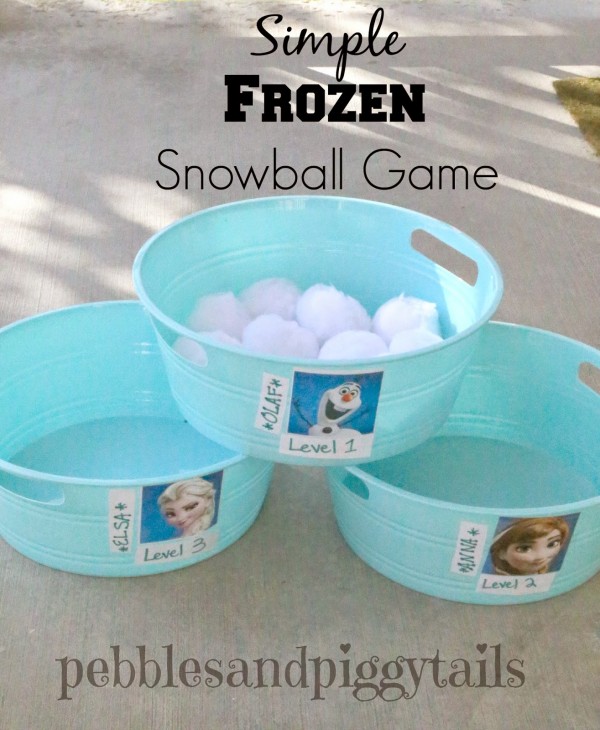 29. Frozen Printable Activities & Coloring Pages from Mom Endeavorswill keep the kids occupied!
30. If you want to buy the best Frozen party invitations (Elsa or Anna ones), Zazzle has some amazing ones!
31. If you're really ambitious, you'll make this Frozen fort from Hello Splendid. The kids can play inside for hours!
Or this Frozen tent from Amazon (if you'd rather not make one):
32. Don't leave out any of your favorite Frozen characters with this Frozen puppets. Free printable from Red Ted Art.
Pin this for later!
Hope you liked these ideas for the best Frozen themed birthday party ever!